ISO 9001:2008 Certified Precision Sheet Metal Fabrication
Built to Your Specifications
---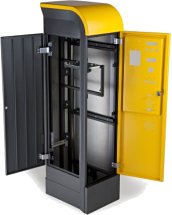 You have hundreds of choices when it comes to selecting the right supplier to meet your custom metal fabrication needs.
The company you choose will make you look good or make you look bad in providing your customers with the custom sheet metal products they need, on time.
Industry research shows that precision sheet metal fabricators with a Quality Management System like ours tend to have better overall operations, with improved performance, including cost-cutting measures.
Vertical Integration Makes the Difference
---
For a custom metal fabrication company like us who is vertically integrated, it is a proven fact that vertical integration provides:  improved efficiencies and lower costs by decreasing transportation expenses, reducing turnaround time while controlling the quality throughout the manufacturing process.
For our Custom Sheet Metal Customers only*, we provide both in-house processes and in-house finishing options that make your life much easier:
In-House Processes

Laser Cutting
Turret Punching
Tube Bending
Machining
Precision Flattening
Robotic Welding
Lights-out Operation
Assembly
Silk Screening

In-House Finishing Options

Powder Coat
Zinc Plate
Liquid Paint
Alodine
Passivate


*We only provide these services for our precision sheet metal customers; we do NOT quote them as stand-alone operations.  This way we can focus on the quality and perfection that our customers demand.
Repeatability
---
Our skilled team uses state-of-the-art manufacturing technology every step of the way allowing you to meet and exceed the required specifications for your customers.
Regardless of your industry, whether Electronics, Fixtures for LED Lighting, Banking, Parking Equipment, Industrial Computers, Landscaping Equipment, Exercise Machines, Medical Devices, Fastening, Power Transmission or Defense, you can count on Detronic Industries' 54 years of experience to meet  your custom sheet metal fabrication needs.  Get your Quote today!
Testimonials:
"I wanted to give an extremely positive assessment for the production of the mount you did for us.  Not only that your company worked from just a sketch, where you even found one mistake in one of the dimensions, you also suggested and implemented the welding, to full customer satisfaction, as well as choosing the right material thickness to give enough strength to the mount."
R.R., Systems Engineer, Defense Industry
"I just wanted to tell you how much I appreciate the great service you provided on this purchase order.  I hope you'll let all who are involved in producing our trays (know) that they do great work.  By providing this order several weeks earlier that your normal lead time…you've enabled us to ship many units out on time – making us look good to one of our best customers.  Thank you very much!"
M.A., Buyer, Power Transmission Company